MEET YOUR NEIGHBOURHOOD PHARMACISTS
DAVID COSTINIUK, PHARMACIST & PORT HEALTH PHARMASAVE CO-OWNER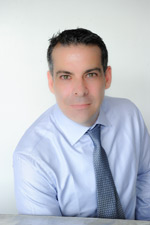 David's goal is to meet the distinct needs of his customers and is often seen out in the community making house calls and group home visits. As co-owner of a boutique pharmacy, David can tailor his service to meet any challenges you or your loved ones may have when seeking care. His favourite part about being a pharmacist is to work with his customers and help them with their healthcare needs and questions.
Throughout the Niagara Region, David delivers his valuable knowledge and sixteen-years' experience, as well as your prescriptions, to ensure that you understand your medications and to provide you with the best possible care.
JENNIFER NITSOPOULOS, PHARMACIST AND CO-OWNER
Jennifer became a pharmacist to help people. She became a pharmacy owner in order to go above and beyond to create an accessible, friendly setting for people in need of medications and advice. Her goal is to provide a comfortable space for people to feel free to ask questions and obtain all of the information they need to enjoy their health to the fullest.
A local herself, Jennifer is proud to serve the Niagara Region on a daily basis. Her one-on-one approach means that Jennifer personally handles your situation, collaborating and communicating with doctors and professionals to give you the peace of mind that your medication regime is right for you. With eight-years' experience, Jennifer is equipped to make the decision that right for your, and, as an owner, she can implement a better strategy based on individuals rather than Big Box bottom lines.